Birla Institute of Scientific Research has been running a mobile health van in the rural areas of Nainital district, Uttrakhand since November 2007. A need was felt to increase the patient load of the van in order to make each health camp more viable.
A Participatory Communication Plan was designed for the Mobile Health Van to increase utilization of the Mobile Van services (preventive, diagnostic, curative) and improve access to RCH services in areas with poor access
The communication strategy included:
Media/ communication products
Training programmes that were conducted with 95 ASHA ( NRHM) workers, to guide them in ways to use the campaign products and distribute the products.
The campaign products covered:
Information /facilities about the van
Communication for Reproductive Health
Communication for Child Health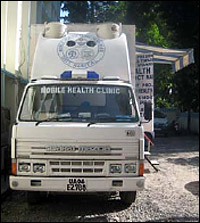 A Mobile Health Van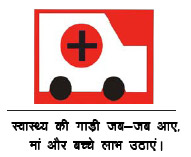 A simple graphic and an equally simple tag line was developed that would repeat as a slogun on all communication products and also at the training programmes.