Print media
Flip books, brochures, takeaways, OHP booklets and others.

Books and pamphlets are self learning tools.
They are also tools that double as resource material for educators.

Client : Constella Futures , Delhi
"ASHA + " NRHM Project, Govt of Uttrakhand - 700 "Asha + " workers coordinate with 55 supervisors of different NGOs in the districts of Chamoli, Uttarkashi and Munsiyari . The "ASHA Jhola" is support material for the ASHA worker
The ASHA + worker is provided with a sling bag or jhola containing material that is intended to support her while she works in her field area. Made of strong denim material, the ASHA + project has tried to use eco friendly material wherever possible. (Even the buttons are made of wood.) The jhola contains information material of different types: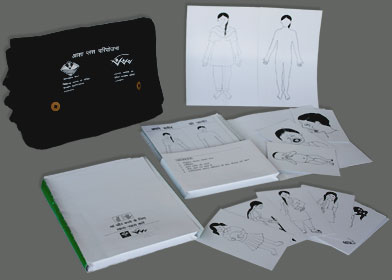 "Asha Meri Kitab"a reference book or diary.
Support Material on Health
This is divided into dockets. Each docket contains further sections.

"Sharir aur Swasth kay liye khas-khas batein". This unit covers:

Nutrition Flag
Anaemia
Anatomy
Changes in the body as we journey through adolescence
Contraceptive choices

"Mahwari honay par kya karen?" This unit covers:

Mahwari Chakka ( menstrual wheel)
Sanitary Napkin
Demonstration Doll

"Maa aur Bachay kay liye khas-khas batein", This unit covers:

Care during pregnancy
Dangers during delivery
Nutrition for children 0 - 5 years
Immunization 0 - 5 years
Childhood illnesses

"More about health", This unit covers:

RTI
STI
HIV/AIDS
Understanding Gender
Content development support: Dr Kailash Brijwasi, Jyotsna Lall