Training
Vikalpdesign conducts trainings and workshops in the areas of Reproductive Health, Communication and Life Skills. Some examples are mentioned here.
Under the "Fund for Leadership Development" of the MacArthur Foundation, year 2000-2003, Vikalpdesign was able to make significant contributions in the field of reproductive health communication. Effective training programmes and media material on sexuality were designed to address young rural people.
The fellowship project collaborated with 8 NGOs in Southern Rajasthan and worked with 600 adolescents. Through illustration workshops and training programmes we understood perceptions of young people and addressed sexuality issues in creative ways.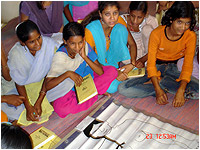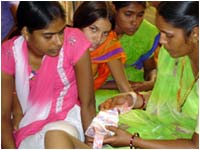 Client: Future Group International Pvt Ltd Delhi
Our work was with NRHM - ASHA workers of Uttrakhand. It involved:
Developing the ASHA JHOLA for ASHA health workers
Designing a 21 day Reproductive Health Communication and Life-skills training- for 650 ASHA workers
Developing 4 Training Manuals corresponding to the 4 training phases. The training design included using all products within the ASHA JHOLA.
Conducting the 21 day training and mentoring a team of 55 master trainers
"Hand holding" / block level training supervision as master trainers trained the 650 ASHAs in the different blocks: Uttarkashi, Joshimath, Pittoragarh,
Munsiyari, Karanprayag, Purola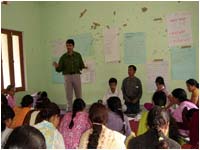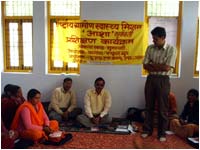 Increasing utilization of the Mobile Health Van through a Communication Campaign
The campaign was designed to increase utilization of the Mobile Van services in order to improve access to RCH services in areas with poor access. The strategy involved a combination of training and information dissemination.
bringing/motivating the community to use the facilities offered by the van
information dissemination for PNC, ANC, immunization, nutrition and menstruation through campaign material.
A training was conducted for 120 ASHA workers on the method to manage the campaign and ways to make the campaign effective. The training component included a "dissemination time table" to facilitate easy distribution of the communication products.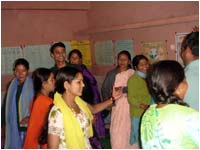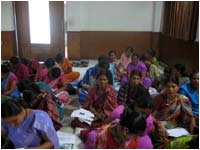 Training in Couseling for Contraception
Our work was with health trainers working with NRHM Sahiya workers of Jharkhand. This involved:
Media design for contraception couseling
Training design and module development for Couseling for Contraception
Conducting training for 120 master trainers in the area of Counseling for contraception

Courses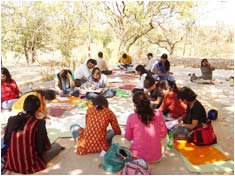 At a Paper Workshop
Vikalpdesign believes it is important to have creative people working in the area of rural development. To this end, we help design students to get oriented to rural issues. This way, young designers get a "world view" as it places creative communities in practical, meaningful contexts.
We have conducted courses at Udaipur for design students from Indian Institute of Craft and Design, Jaipur and Pearl Academy, Delhi
These courses attempt to introduce students to:
rural people and their lives
communicating with communities
concepts of cooperative formation
micro credit and entrepreneurship
consciously sharpen observation skills by learning to use the five senses.
"gender" and its place in rural communities
lifeskills education
rural health issues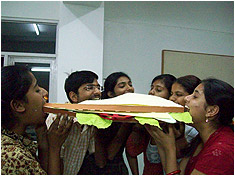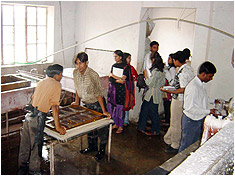 Students on a field visit
Students take a small bite of
a giant paper sandwich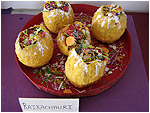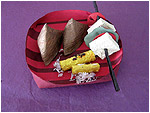 Other Paper Products