Client: Population Council, Delhi
1. "Safai ki Jankari" Training Book
Safai Ki Jankari Training book: This interactive graphic book was developed in partnership with Population Council to inform low literate audiences about safe abortion in order to reduce maternal mortality. All illustrations use visual grammar that rural women understand.
The book opens out like petals of a flower. One side has 4 stories on abortion and the pathways that women take when they require termination of pregnancy. The center panel illustrates the legalities involved. The other side has text, describing each story.

Pictures on one side Text on reverse

The different sides fold inwards as shown and becomes one "square" of size 8"X 8"
Safai Ki Jankari "Take away": This is a palm-sized book that can be handed out to participants at the end of a training session. The book contains the same information as the training book. In addition there is an empty space provided where the local health educator can write down the names of a safe service provider.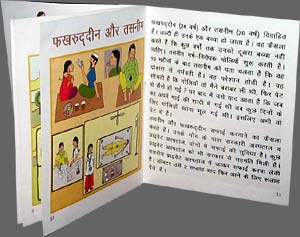 Size: 3'X4"
2. "Towards a Healthy future" Training Book
This follows the same design as the training book above. It address the health information needs of married young men and women . The tool contains a dual approach in using stories and facts to communicate complex concepts to the audience. The content covers contraceptive choices, pregnancy related care, safe abortion seeking, HIV and STI.
A follow-up booklet is a part of this package, to be handed out to all participants at the end of the session.
Both the book and the "Take Away" are in three languages, English, Telugu and Hindi.
Design support : Sarika Samdani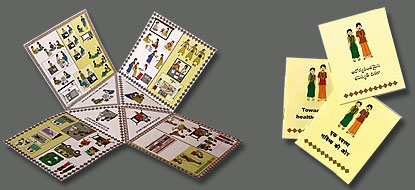 Each square measures : 12" X 12" Size: 3.5" X 4"