Communication
Pictures drawn by rural communities in Rajasthan or Gujarat are recognised in villagers in rural Karnataka or Andhra, indicating that visual grammer is often similar amongst non-educated people. Yet, the assumption cannot be made. Field testing in every village and to local audiences is still indispensable to comprehension and effective implementation.


Translation and Integration
The visual grammer of an audience is the foundation upon which all media material can be based. The first step therefore is, compiling a picture dictionary.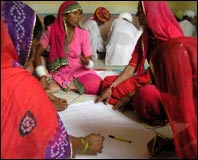 Conduct drawing sessions: ask the audience to draw:
own house, own family
marriage, festival, patterns (mandana) in a wedding
household duties, daily activites
village meeting
what makes you happy, what makes you sad
These drawings will reveal plenty of issues.
The environment and surroundings in which the audience lives
Local representations of people, activities, and objects, etc.
Narratives of events, shown without sequence
The resources accessible or available to them
How women see view themselves (health and social status) in their community
Issues of exclusion; the existing gaps in communication channels
Example 1 of integration: Final picture, a page from a training book on abortion:
Population Council: 2004 - 2005
The intended message on the page:
Abortion is legal up to 20 weeks of pregnancy.
If you are above 18 years of age , you require just your own signature.
Abortion is illegal beyond 20 weeks of pregnancy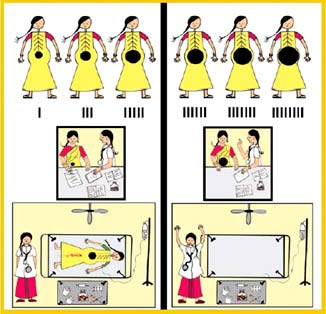 These elements from the picture dictionary were included for the above final picture.

Example 2 of integration: Final picture, a page from a training book on HIV/AIDS
RCDCSSS, Ajmer. 2006
The intended message on the page:
Do not drink.
Do not do drugs.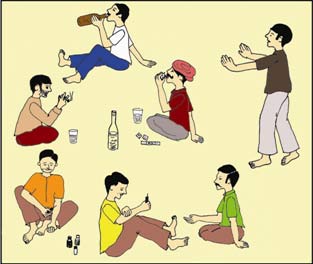 This element was used to convey do not do rather than use a 'cross' to convey 'wrong'